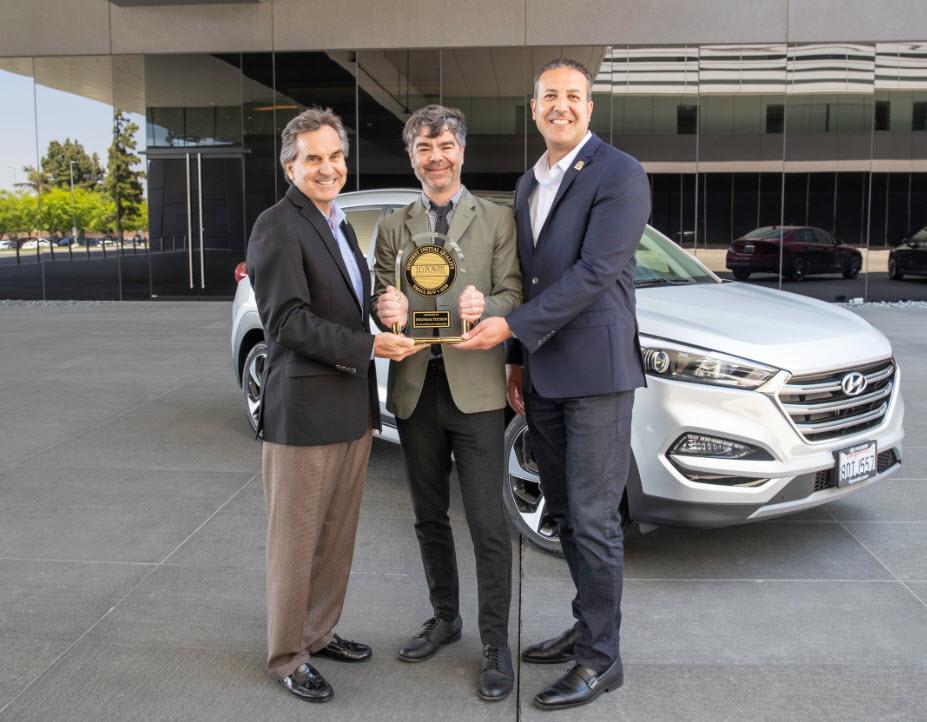 Hyundai Named a Top Brand in J.D. Power's 2018 U.S. Initial Quality Study (IQS)
Ranked Second-Highest Non-Premium Brand
Improved to Third Overall with Hyundai Owners Reporting 14 Fewer Problems per 100 Vehicles Than in 2017
Hyundai Tucson Is the Highest-Ranked Small SUV in Initial Quality
Hyundai Santa Fe Finishes Second in the Midsize SUV Segment
Hyundai's Ulsan Plant 52 Wins Bronze Plant Quality Award
FOUNTAIN VALLEY, Calif., June 20, 2018 - Hyundai's new-vehicle quality was among the best in the industry, as the company ranked as the second-highest non-premium brand in J.D. Power's 2018 U.S. Initial Quality Study (IQS). Hyundai was one of the most improved brands, moving from sixth to third overall and reducing problems per 100 vehicles by 14.
In the model segments, the Hyundai Tucson was the highest-ranked small SUV and the fourth-best model overall, while the Santa Fe ranked second in the midsize SUV segment. Hyundai's cutting-edge Ulsan Plant, which produces Tucson, was awarded the Bronze Plant Assembly Line Quality Award for the Asia Pacific region.
"Customers of the Hyundai brand can feel confident that they are selecting a new vehicle that has one of the best initial and long-term quality rankings in the entire automotive industry," said Omar Rivera, director, Quality and Service Engineering, Hyundai Motor America. "J.D. Power's IQS is the industry benchmark for new-vehicle quality, and our 2018 ranking is a result of an enterprise-wide commitment to producing vehicles of the highest quality and educating customers on how to use their car's technologies and features."
Hyundai's strong showing in J.D. Power IQS follows its third place non-premium ranking in J.D. Power's 2018 Vehicle Dependability Study (VDS). Hyundai's results in both of these studies demonstrate its quality leadership over time. Tucson also ranked highest in its class in that study.
J.D. Power measures initial quality by the number of problems owners experience per 100 vehicles (PP100) during the first 90 days of ownership, with a lower score reflecting higher quality. Hyundai had 74 PP100, outpacing the industry average of 93 PP100.
The 2018 U.S. IQS is based on responses from 75,712 purchasers and lessees of new 2018 model-year vehicles who were surveyed after 90 days of ownership. The study is based on a 233-question battery organized into eight vehicle categories designed to provide manufacturers with information to facilitate the identification of problems and drive product improvement. The study was fielded from February through May 2018. For more information about the 2018 U.S. IQS, visit http://www.jdpower.com/resource/us-initial-quality-study-iqs
Hyundai Motor America
Hyundai Motor America is focused on delivering an outstanding customer experience grounded in design leadership, engineering excellence and exceptional value in every vehicle we sell. Hyundai's technology-rich product lineup of cars, SUVs and alternative-powered electric and fuel cell vehicles is backed by Hyundai Assurance-our promise to deliver peace of mind to our customers. Hyundai vehicles are sold and serviced through more than 830 dealerships nationwide and the majority sold in the U.S. are built at U.S. manufacturing facilities, including Hyundai Motor Manufacturing Alabama. Hyundai Motor America is headquartered in Fountain Valley, California, and is a subsidiary of Hyundai Motor Company of Korea.